---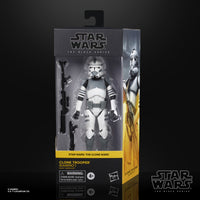 Star Wars The Black Series Clone Trooper (Kamino) 6-Inch Action Figure
Regular price $ 34.99 CAD
Expected Release Date: Q3 2020 (subject to change without notice)
Regular Price: $34.99
Pre-Order Deadline: 2020-06-15
*Availability is not guaranteed after deadline
*Customer cancellations will incur a fee of 20% item price
*Shipping costs will be invoiced before shipment
Clone Troopers were grown on the planet Kamino from the genetic template of bounty hunter Jango Fett and made into a highly-efficient military force.
Kids and collectors alike can imagine the biggest battles and missions in the Star Wars saga with figures from Star Wars The Black Series! With exquisite features and decoration, this series embodies the quality and realism that Star Wars devotees love. Star Wars The Black Series includes figures, vehicles, and roleplay items from the 40-plus-year legacy of the Star Wars Galaxy, including comics, movies, and animated series. (Additional products each sold separately. Subject to availability.)
The 6-inch-scale Black Series figure is detailed to look like the Clone Trooper (Kamino) character from Star Wars: The Clone Wars, featuring premium detail and multiple points of articulation.